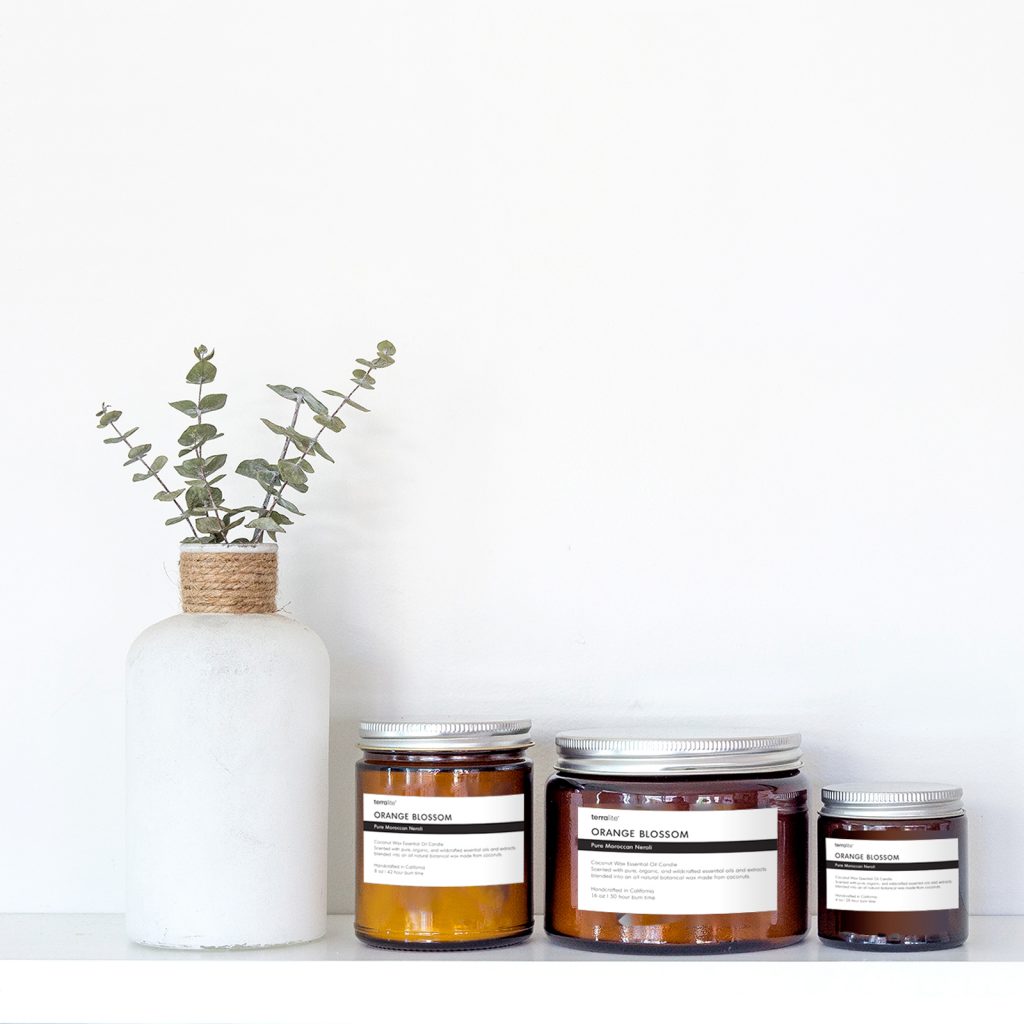 Terralite has a green affiliate program for approved natural living bloggers, ambassadors, and press to earn commission on sales by linking to our website and products.
To get started, simply fill in the application below and our team will get back to you in about 5 business days with all the details.
Online purchase with processed valid payment
Monthly payments via Paypal
At Terralite, we believe the products most beneficial for our home and body are the ones that balance nature with nurture. All the materials we use – from the purest essential oils, plant extracts, grain and fruit waxes, to the containers the products live in, are thoughtfully selected for their beauty, quality, and environmental sustainability.

Our aesthetic is clean and minimal, influenced by a pure and simple design philosophy. We gravitate towards neutral interiors and favor natural lighting. Our palette is a blend of black, white, amber, and warm neutrals paired with seasonal botanicals. Our products are designed to unify people and spaces, and complement every style of home.
We use a botanical coconut wax for our aromatherapy candles, scenting them with pure, organic and wildcrafted essential oils and plant extracts. Each scent is formulated to inspire a deeper connection to nature — a hike through coastal eucalyptus groves, the igniting of ritual herbs for solitude, a Mediterranean spring harvest.
Our tealights, made from rice bran wax and fair trade organic coconut oil, set the mood with clean unscented light. To aim for zero-waste, we pair them with reusable tealight tins made from recycled steel. All of our candles use chemical-free hemp core wicks braided with unbleached cotton.
We exist to develop products that are good for people and planet. This includes minimizing our environmental impact every step of the way, from product to packaging, and pledging 1% of sales to environmental non-profits.
Featured in West Elm blog, Buzz Feed, The New Knew (formerly This Organic Girl), Etsy's Editory Picks and more.
How does the Green Affiliate Program work?
The Terralite Green Affiliate Program is a service, handled by a third party application called BixGrow, that allows participating websites and blogs to earn commissions on sales referred to Terralite using specially tracked links. We provide you with custom links and banners that you can post on your website. Then when a visitor you've referred to us makes a purchase, we'll keep track and give you a commission on the sale.
Is my website eligible for the Green Affiliate Program?
We accept websites with content and visual appeal that align well with our brand, mission and ethos. We welcome all applications but reserve the right to refuse membership or revoke a membership at any time and for any reason at our sole discretion.
How do I join?
Sign up by filing in the application on this page. Once submitted, we will review and either accept or reject the application within 5 business days.
Are there any fees?
This program is completely free to participate, there are no minimum sales requirements, and you may cancel at any time.
I have multiple website, do I need to apply separately for each?
Yes. You should apply each website separately as each website is subject to approval by our staff.
What is your commission rate?
Commissions start at 10%. High volume affiliates will be eligible for higher commission levels up to 20%.
What is the average order size?
The average order size at Terralite is $78+. Commissions are not charged on tax or shipping.
Is there a minimum annual threshold?
There is no minimum sales level required to remain in the program, but you will not receive a commission via PayPal until you earn $50 in commissions.
Will you provide extra support for high-traffic websites?
Yes. Contact us and we'll be happy to help you with your affiliate efforts.
Do I receive any discounts on Terralite products since I am an affiliate?
No. However, we recommend you purchase your orders through your own links so you can earn commission on the sales, which often will be a greater amount than our standard discounts.
Can I use images from Terralite on my website?
All of the content on the Terralite website is protected by copyright. You may use images and content from our websites in the promotion of our products on your own website, however all images must be attributed and/or used in conjunction with the sale of the product through the affiliate programs. The images cannot be used in the general design of your website. If you have a special circumstance that requires the use of any photos, product images or content in a manner that is not consistent with the policy stated above, please contact us for written approval prior to the content's use. We will actively prosecute copyright infringement should we find any instances.
Does Terralite have a dedicated program manager to contact for more questions?
Yes, we are committed to making our affiliates successful and our Program Manager is available to help. Please email affiliates@terralite.com for support.
How do I sign up?
You must first register through the application form on this page. Please note that your application will be approved faster if you use an email address that matches the website in your profile (i.e. johndoe@website.com and www.website.com). This helps prove that you own the domain listed on your profile. Regardless, we will still email you prior to acceptance for further details using the email address used during sign-up.
How do I know if my application has been received or if I have been accepted into the Green Affiliate Program?
If your application has been submitted correctly, you should receive a confirmation e-mail. If you do not receive this e-mail, please check your spam folder. Otherwise, you may not have finished the process correctly and should therefore resubmit your application. If approved, you will receive a Welcome e-mail from our Affiliate Manager.
How do I create links to Terralite?
When you add a banner or link to your website, it will be tagged with your unique affiliate ID. The easiest way to create links is to visit the Terralite Affiliate Page once you've been approved. Once signed in, you can browse through the different categories of banners and ads under the "Creatives" tab, or make a custom link to any page on Shopping website. To make a custom link, visit the "Dashboard" tab then click "Generate a Custom Link", follow the steps and your unique affiliate link will be created. Please contact us and we may be able to work with you to create custom banners or ads and even possibly create a custom discount code for your readers, followers, etc.
Am I obligated to place a certain number of links on my website?
No. There is neither a minimum nor a limit. We encourage you to use as many as necessary and appropriate to improve click-through and conversion rates.
How does the Green Affiliate Program know when I should receive credit for an order?
We track a cookie that is automatically applied to the computer of a person who clicks on a banner or text link that has your affiliate ID number embedded within it. Each banner or link that you create is specifically tagged with your affiliate ID number, letting us know that you deserve commission on the sales you send our way. You can access all of these banners and links by logging in to your Terralite Green Affiliate Account and choosing from any of the banners or create links. These links can be used from any website, put directly into a browser or emailed out in the case of text links. You can test a link by copying and pasting it into your browser. If you are directed to the Terralite website, the link is working. Do not copy and paste a landing page url from our website and confuse it for an affiliate link, since it will not track properly.
When and how do I get paid?
Terralite will pay your monthly commission via PayPal around the 1st of the following month. Your account needs to have a balance of $50 or more before the end of the month in order to receive a payment. Otherwise, it will continue to roll forward into the next month until the $50 minimum is reached and we can issue a payment.
What sales and revenue reports does Terralite provide?
Each transaction is logged and available for review in detail under the "Dashboard" tab or "Reporting" tab once signed in to your account. We will provide tracking of your clicks, sales and commission. Please do not contact Terralite for this information, since we cannot access your account.
What is your return days or cookie policy?
If a visitor comes to our websites from your website but does not purchase on that visit, you can still earn commission on sales from that customer if they return and make a purchase within seven (7) days. This works even if they navigate directly to the website on a return visit as long as they haven't deleted their cookies.
NOTE: Offers may vary, but we generally accept sales within seven (7) days of direct referral from your website or domain. We reserve the right to reduce this time period to as little as one (1) day for the use of "flash sales" or special offers, but we will always provide the cookie policy clearly within the offer.
Do I earn commission credits if someone clicks on a product on my site and then buys a different product?
Yes. You will receive full credit for any product that is purchased by a customer who clicks on your affiliate link across http://terralite.com.
How do product returns affect my commission?
If a customer returns a product for a refund, or if credit card charges are reversed due to a dispute or credit card fraud, your account will be debited the commission. We have a no-return policy, but once in a while there are circumstances that require a refund to be issued.
Contact
If you have any questions or comments about Green Affiliate Program, please email us at affiliates@terralite.com